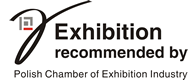 13.02.2018
News about your new products in the Polish sector media? It's possible! If you are an exhibitor of EXPOPOWER fair send us a description of your new products / services along with a photo. We will promote them – for free – before, during and after EXPOPOWER fair.
13.02.2018
MTP Gold Medal Competition EXPOPOWER 2018 - We wish to invite you to participate in the Gold Medal of MTP at EXPOPOWER, awards which go to the best products and technical solutions exhibited at International Power Industry Fair.
16.11.2017
We have just started accepting applications for EXPOPOWER.
More news
---

23-26.04.2018
International Power Industry Fair