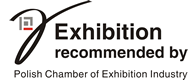 19.09.2016
The energy sector searches for new solutions and technologies. The sector finds them in Poznan. We invite you to EXPOPOWER fair: 23-25.05.2017
07.08.2016
We kindly invite you to read the latest issue of "Poznań Fair Magazine". We invite you particulary to read about the GOLDEN MARKETING CONFERENCE, which take place in November. The main topic of this year conference will be neuromarketing, innovation and personalization. PMT readers' interested in participation in the conference can take adventage of special discount.
13.05.2016
In Poznan ended Expopower 2016 edition. Thank you for being with us. See you next year on 23-25 May 2017.
More news
---

Next edition: 23-25.05.2017
.