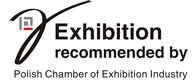 MTP Gold Medal
We are proud to present to you the new face of the competition for the Gold Medal of Międzynarodowe Targi Poznańskie, one of the most recognised and prestigious awards in the Polish market.  Numerous changes in the formula are related not only to the refreshed image of the medal, but above all, to the whole package of unique benefits offered to its winners.
Quality guarantee of the awarded products is a prestigious jury involving  experts from the furniture industry.
One of the innovations introduced in the Competition is an earlier date of choosing the  winners.  The list of products awarded with the Gold Medal will be known for several weeks before the EXPOPOWER Fair.   This will enable a pre-fair promotion of the winners in the media, newsletters for professionals and on the Internet. Promotional campaign of the winners is also planned during and after the Fair.
A Gold Medal winner at the EXPOPOWER Fair will receive a Medallist Package - a set of promotional materials to be used in his or her promotional campaign: the Gold Medal, logo, press releases, press advertising template of "the MTP Gold Medal Winner" and video and photos from the awards gala.
Information about products awarded the Gold Medal will be presented at an exclusive stand located in the centre of the Fair exposition – Champions' Zone. Additionally, visitors and exhibitors will have an opportunity to vote in the Zone for the products they consider to be the best. You can vote for your favourite on the Gold Medal website and by taking part in a specially prepared questionnaire. The product which receives the most votes will win the prestigious "MTP GOLD MEDAL – CONSUMERS' CHOICE".
See the best product awarded the MTP Gold Medal at EXPOPOWER 2014 fairs:
Contact:
MTP Gold Medal Competition
Tel. +48 61 869-24-06, tel./fax +48 61 866-66-50
e-mail:; j.kanikowska@binte.pl