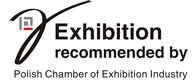 About Competition
The Gold Medal is one of the most recognizable awards in the Polish market, which is given - after a thorough assessment of the experts - to innovative products of the highest quality.

Each year nearly 500 products starts in the competition for the Gold Medal. However, only the ones that meet statutory criteria and gain positive recommendations of professional jury will receive this prestigious award. The Jury, a team of experts, composed of eminent specialists from relevant fields of economic life looking for the products of modern, innovative products based on superior technology. The Gold Medal is thus a confirmation of product excellence and, consequently, part of its promotion in the market.
Consumers' ChoiceGold Medal
After the verdict of the Jury and the granting Gold Medals to selected products, the next stage of the competition begins. Since the beginning of 2012, the representatives of the industry and consumers can vote for the "Gold Medal - Consumer Choice" and cast their votes for the best product in their opinion.
Contact:
Agnieszka Ratajczak
tel.: +48 61 869 22 06, 61 866 59 36,
e-mail: agnieszka.ratajczak@wtcpoznan.pl