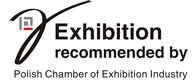 23.05.2019
Next year the EXPOPOWER trade fair will take place at the same time as the INSTALACJE and GREENPOWER trade fairs.
09.05.2019
One of the most significant events for the energy sector in Poland has just started. We invite you to watch the video from the first day of GreenPOWER 2019.
11.03.2019
Feel invited to participate in the Gold Medal - the most exclusive competition for high quality innovative products.
22.02.2019
Are you looking for innovations in the power engineering, electrical engineering or lighting sectors? Wondering what's going on in the industry? Plan your visit in Poznań; the EXPOPOWER trade fair provides many companies with inspiring ideas to introduce innovative solutions. Additionally, the fair will include many events that will provide a solid portion of the latest knowledge.
21.02.2019
Enea Operator will take a strategic patronage over this year's edition of the energy fair organized by Międzynarodowe Targi Poznańskie (MTP). EXPOPOWER/GreenPOWER 2019 Fair will be held on 7-9 May in Poznań.
13.02.2018
News about your new products in the Polish sector media? It's possible! If you are an exhibitor of EXPOPOWER fair send us a description of your new products / services along with a photo. We will promote them – for free – before, during and after EXPOPOWER fair.
13.02.2018
MTP Gold Medal Competition EXPOPOWER 2018 - We wish to invite you to participate in the Gold Medal of MTP at EXPOPOWER, awards which go to the best products and technical solutions exhibited at International Power Industry Fair.
16.11.2017
We have just started accepting applications for EXPOPOWER.