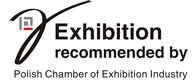 27.06.2018
We present You the latest issue of Poznań Fair Magazine. We invite You to read both its paper and online version. In this issue we present the distinguished guests who visited Poznań International Fair in the recent months, provide reports on the spectacular fair and events, and present Arena Hall, which joined the group of objects managed by the Poznań International Fair. And moreover…
23.02.2018
Enea Operator will take a strategic patronage over this year's edition of the energy fair organized by Międzynarodowe Targi Poznańskie (MTP). EXPOPOWER/GreenPOWER 2018 Fair will be held on 23-26 April in Poznań.
13.02.2018
News about your new products in the Polish sector media? It's possible! If you are an exhibitor of EXPOPOWER fair send us a description of your new products / services along with a photo. We will promote them – for free – before, during and after EXPOPOWER fair.
13.02.2018
MTP Gold Medal Competition EXPOPOWER 2018 - We wish to invite you to participate in the Gold Medal of MTP at EXPOPOWER, awards which go to the best products and technical solutions exhibited at International Power Industry Fair.
16.11.2017
We have just started accepting applications for EXPOPOWER.
06.06.2017
With great pleasure we present You the changed Poznań Fair Magazine. We invite You to read both its paper and online version. In this issue we present the distinguished guests who visited Poznań International Fair in the recent months, provide reports on the spectacular construction and furniture industry fair and announce the most interesting events of the next months. And moreover…
17.05.2017
After the jury verdict and grant a Gold Medal for selected products, begins the next stage of the competition. Since the beginning of 2012, the representatives of the industry and consumers cast their votes for the best fair products in a separate competition "Gold Medal - Consumer Choice".
17.05.2017
In June this year, the Poznan International Fair, which is the biggest trade fair and conference centre in Central and Eastern Europe, once again will host ITM Polska industrial technologies fair.