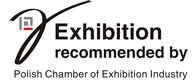 Enea Operator becomes a strategic partner of EXPOPOWER 2018
Enea Operator will take a strategic patronage over this year's edition of the energy fair organized by Międzynarodowe Targi Poznańskie (MTP). EXPOPOWER/GreenPOWER 2018 Fair will be held on 23-26 April in Poznań.
The patronage will not be limited to the title only. Enea Operator will be also the organizer of industry conferences held during the Fair. The company, in cooperation with MTP, is planning to prepare a special zone where various shows and attractions for younger visitors will be offered.
More details will be provided by Enea Operator soon.
This year's edition will be held in parallel to the Instalacje, Sawo, and Securex Fairs. Międzynarodowe Targi Poznańskie promises that this fair block will allow for a very broad overview of issues related to diverse types of installations.
The company's distribution network covers 20% of the territory of Poland (area of 58,213 km²) and reaches more than 2.4 million customers.