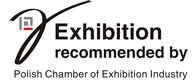 Let your NEW PRODUCTS be visible at EXPOPOWER fair!
News about your new products in the Polish sector media? It's possible! If you are an exhibitor of EXPOPOWER fair send us a description of your new products / services along with a photo. We will promote them – for free – before, during and after EXPOPOWER fair.
New products are the greatest attraction for trade fair visitors. That is why we encourage you to take advantage of the additional possibility of promotion - free of charge! Information about new products presented by the exhibitors will be available in materials prepared for the visitors and on the web page of EXPOPOWER trade fair. Moreover, the stands of exhibitors presenting new products will be especially marked.
We encourage you to take advantage of our offer. It's free of charge!
To apply, please fill >>> the FORM